Groupe SEB, WMF Uses NPN's Gift Card System To Digitise Offerings At Takashimaya
WMF Singapore had a Culinary Delights Promotion at Takashimaya Shopping Centre from 15-27 April 2022, where customers get to enjoy an exclusive promotion. This event was a success with the collaboration of NPN's cutting-edge gift card system. Working in conjunction with NPN, WMF has successfully digitized one of their many marketing events. Utilizing NPN's gift card system, WMF was able to create unique and interactive promotions that enhanced the customer experience and brought added convenience to the events. Additionally, NPN's gift card solution allowed for a high degree of customisation, giving WMF the ability to create any type of promotion they desired.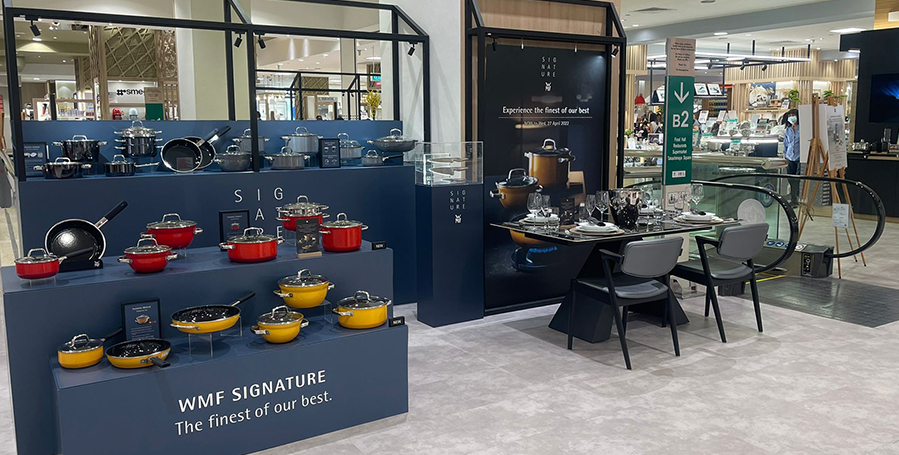 WMF – A Trusted Name in Cookware for Over a Century
WMF has been a producer of high-quality cookware and household items since 1853. Their product line includes nearly all the kitchen gadgets a customer would need for a modern kitchen. They offer the ideal tools for preparing, cooking, and savoring favorite meals. All of their products are made in Germany and they are always looking for new and innovative ways to provide customers with after-sales promotion. Using the help of NPN, WMF has been able to expand their reach and continue providing customers with quality service.
NPN and Groupe SEB – WMF: A Powerful Partnership
The new partnership between NPN and Groupe SEB – WMF benefits both organisations in a number of ways. Firstly, the digitalisation of promotions makes it more convenient for customers to scan QR codes and receive exclusive on special offers. Additionally, the use of gift cards as a promotional tool helps businesses to increase their sales and revenue, better attract customers and give them a better experience. For Groupe SEB – WMF, this kind of digitalised promotion is also cost-effective and convenient. Not only that, WMF was able to elevate brand awareness amongst customers using NPN's gift card template. Furthermore, NPN's gift card system can help track and report the gift cards that are issued and redeemed by customers where Groupe SEB will be able to use these data to further improve their campaigns in the future.
Why Your Business Should Start Using NPN's Gift Card System
NPN offers a comprehensive gift card management system that is designed to help businesses increase their revenue, simplify processes, and improve cash flows. We are here to help you create a better experience for your customers. The use of NPN's gift card management software in Singapore comes with an array of perks, including building of a gift card website on your online business site. This perks allows your customers to purchase your gift cards for your services and products directly on your website with all things else such as payment and delivery of gift cards taken cared by NPN. NPN can swiftly build a gifting website or incorporate a gift card management software on your domain where you can reach out to customers from your direct website and social sites quicker in a more cost-efficient manner. It also gives you an opportunity to reward your employees by allowing the redemption of rewards through gift cards.
Empower Your Business' Digital Transformation With NPN
To sum it all up, digital gift cards have become the norm when it comes to virtual gift giving amidst the global pandemic, and the demand is expected to continue growing. If you're looking to capitalise on this opportunity to start on your digital transformation journey, now is the best time to do so.
If you're ready to work with NPN in helping you set up your gift card redemption system in Singapore, take the first step by contacting us today, or read our blogs to learn more about the other retail technology services that we provide!
Our Reader's Appreciation
Thank you for reading this blog! As an appreciation for our readers, you can collect a $2 GrabFood voucher here: https://www.retailtechnpn.com/sg/bp16 Please help to like, share, and leave any comments you have below. Stay tune for more of our blog content. Thank you!