NPN Gift Card System Digitalise SPH Black Friday Campaign
SPH has teamed up with NPN to offer shoppers some great deals this Black Friday. Participating retailers include BHG, Gain City, Metro, Courts, and Harvey Norman. SPH was able to eliminate issuing physical gift vouchers this Black Friday promotion with NPN's gift card system. The gift card system allowed SPH to easily promote their Black Friday campaign both online and offline in media print. This is a great way for SPH to direct traffic to its partner retailers, and it offers a new and innovative way for these retailers to promote their deals.
SPH has recently begun using digital gift cards as a new way to promote its newspaper products. This departure from the traditional method of announcing a promotion in the paper and telling readers where to redeem it is more convenient for readers, as they can easily access the information and use the voucher at the specific retail stores mentioned in the terms and conditions. In addition, the gift card system allows SPH to track redemption rates and better assess the effectiveness of its promotions, making it a win-win situation for both SPH and its readers.
SPH's Black Friday Voucher Campaign: What You Need to Know!
SPH is running a promotional campaign in which it is giving away vouchers worth $150,000 to be used at various businesses in Singapore. The vouchers can be found in Thursday's and Friday's editions of The Straits Times, The New Paper, the Chinese-language Lianhe Zaobao and the Malay-language Berita Harian. The Chinese language Shin Min Daily News published the vouchers on Thursday while Lianhe Wanbao will feature them on Friday. This is a great opportunity for readers to enjoy discounts at many different types of businesses, such as restaurants, cafes, retailers, and more.
Claiming the vouchers is easy–simply scan the QR code and create an account online. Once you have done so, the unique voucher will be sent straight to your e-mail address. You can claim one voucher of each type:
BHG: $20 off with a minimum of $160 spent

Gain City: $30 off with $120 spent

Gain City: $100 off with $300 spent on mattresses (available at Gain City Megastore @ Sungei Kadut)

Metro: $10 off with $100 spent
The vouchers are available for redemption at the respective retailers' stores from Friday to Monday (November 27 to 30). Please note that the vouchers are available in limited quantities and while stocks last.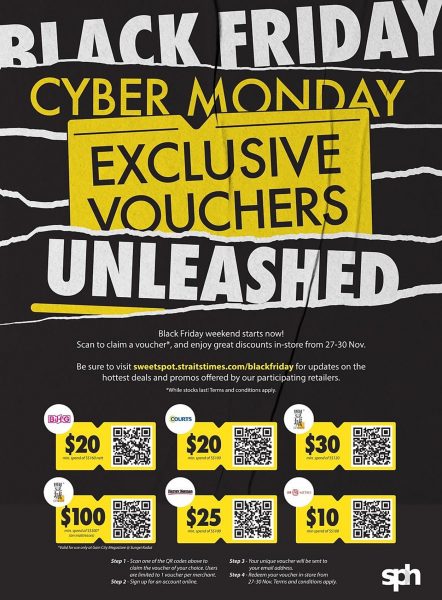 The Benefits of Using the NPN Gift Card Redemption System
NPN gift card redemption system offers a number of benefits for brands. With our system, brands can create gift cards in the form of QR codes or URL links that can be used in social media campaigns, email marketing, or any other promotional campaigns. In addition, the merchant brands saved cost on printing physical vouchers to promote their Black Friday promotion. By using our system, brands can reach a larger audience in the online and offline channels with their marketing campaigns and increase sales revenue. Overall, NPN gift card solution is a convenient and cost-effective strategy for brands to increase brand awareness and sales revenue. If you are interested in learning more about the gift card redemption system or want to start using it yourself, please contact us for more information. We look forward to working with you!