Sea limited lost half of its value in 3 months
Valued at over US$100 billion, Sea Ltd — the parent company of Shopee and Garena — is Singapore's largest company by market capitalisation.
However, just three months ago in mid-October, it was valued at around US$200 billion — more than all Singaporean banks (DBS, OCBC and UOB) combined.
Sea's leading growth driver, Shopee, has been doing exceedingly well in 2021, beating expectations and even eclipsing Alibaba's entire international (ex-China) ecommerce business, consisting of brands like AliExpress, Lazada and Trendyol (combined).
So, what's going on with Sea? Is the company losing steam as the world is trying to live with Covid-19? Has it lost confidence of investors, taking their money to greener pastures? Does that spell trouble for Shopee?
Not at all.
Its situation, however, provides an excellent lesson on why companies should not be judged by their stock market capitalisation.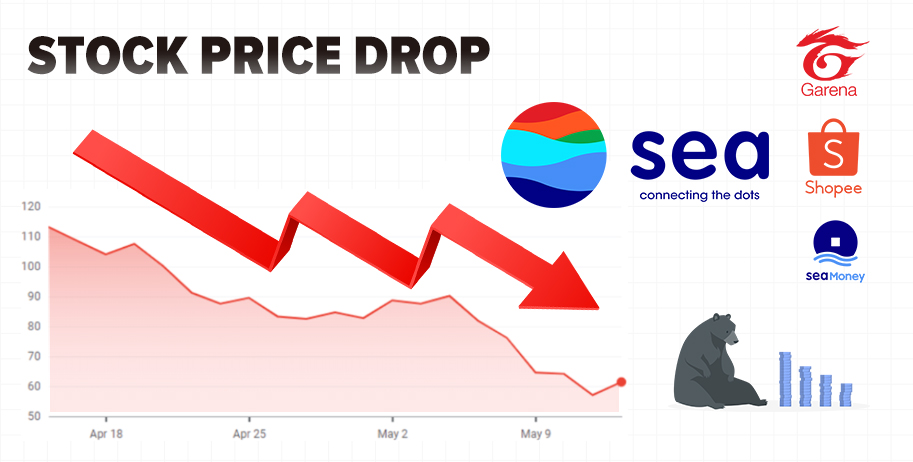 Shopee is the

best ecommerce platform in Southeast Asia
Online platforms have come a long way, with over 30 years of history till date since the 1990s. Unlike the last century, online platforms especially those of ecommerce have become the norm around the world today as they integrate into daily lives.
Ecommerce platforms have provided the world with plenty of advantages and ecommerce strategy in play. As a consumer, we not only get to enjoy the convenience of purchasing goods online by tinkering a few buttons on the keyboard, we also get to enjoy various things such as speedy deliveries and the massive varieties of goods at relatively cheap or reasonable pricing. Not to mention, the Gross Merchandise Value (GMV) amassed from these platforms has now far surpassed that of offline large department stores and supermarkets.
Nevertheless, many investors around the world are remaining cautious and taking the backseat when it comes to the development of ecommerce platforms recently. These sentiments are largely attributable to the nearly 66% drastic drop of share prices from its highest level of more than USD 372.70 in Southeast Asia's largest ecommerce platform, Shopee, a multi-national technology company which focuses mainly on e-commerce.  
Case Study 1: Shopee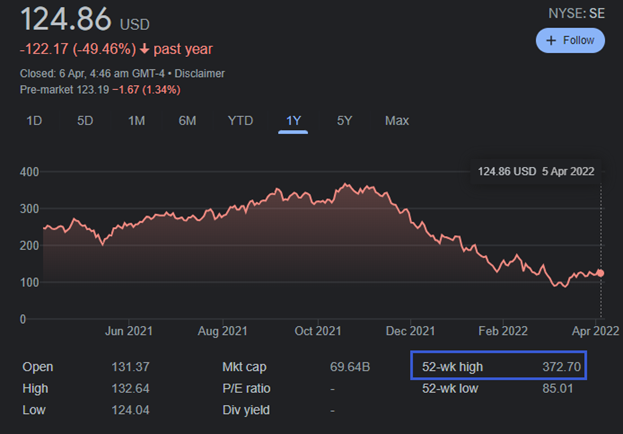 In fact, the slump is so bad that it has completely erased the gains recorded over the entire 2021, putting the company 20 per cent below the level it started the year at in mid-January of 2021.
Case Study 2: Lazada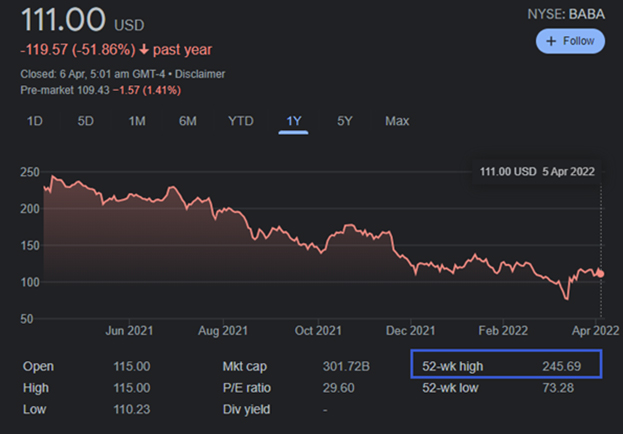 Share prices in Alibaba, the parent company of Lazada, have also seen a more than 50% drop in the past year.
As mentioned in one of our previous articles on consumer development, I too wonder about the future of ecommerce platforms. Will ecommerce platforms die out like large department stores?

Are ecommerce worth it even after covid?
1. Ecommerce platforms adopting the use of demographic dividend to help increase Gross merchandise value (GMV) and therefore accelerate the development of the platform.
2. When demographic dividend disappears and competitors increase, ecommerce platforms ended trapped in the vicious cycle where they need to inject additional funds in order to maintain competitiveness.
3. The convenience of search and comparing prices resulted in low customer retention rate when customers go for the cheaper deal at other platforms. As such, the ecommerce platform will only be able to gain profits from the sellers instead of consumers (customers). Based on available data analysis, it is also concluded that only the top 5% of these ecommerce merchants are profitable.

In order to maintain competitiveness, e-commerce companies ("Platforms") cannot obtain profits from these leading merchants, but rather, only from the remaining 95% of merchants that are not very profitable. In my opinion, a business model as such will lead to two scenarios:
1. The top 5% leading merchants will continue to see an increase in domain traffic figures due to the presence of loyal customers. This inevitably forms a closed loop. Further, with the existence of platform fees and inability to fully obtain user data, these e-commerce merchants may be "cornered" into such position that they may be less willing to promote their goods unless they can obtain platform traffic or subsidies from other resources.

2. 95% of merchants encountered low traffic and maintained growth by purchasing long-term e-commerce traffic. A large part of their profits is usually given to the platform. This naturally damages the positive development of merchants and results in them having to look for new lower-cost channels to promote their goods.
What is the best ecommerce solution?
Based on these observations, my team and I are pleased to propose the following e-commerce management solutions:
1. Ecommerce merchants can merge and form an alliance with a tacit understanding of the market or a monopoly of a certain scale.

Nevertheless, merchants should also take note that such acts may be illegal in some countries.

2. Allow ecommerce merchants to enjoy additional benefits via the following ways:
Different Resources including store traffic support, financial support and supplier support.

Tools including promotional tools, poster/image designs for products, as well as usage of videos and customer analysis management software, etc.

Customer Operation, including sharing customer data with merchants through tools and data analysis, allowing ecommerce merchants to manage platform customers with more efficiency so as to retain customers.

3. Ecommerce merchants can collaborate with suppliers to optimize the supply chain via way of digital transformation with large amount of data.

4. Increase scenarios where people can easily transact anytime and anywhere by integrating e-commerce into their daily lives(ie, placing orders swiftly).
Examples of scenarios may include but not limited to the following: 
Reading the description of a dress/clothes worn by the female lead that piques your interest while reading a novel. Readers can simply scan the QR code provided to purchase them from the e-commerce merchant;

Hearing a conversation about delicious New Zealand kiwis. Users can make use of "Smart Speakers" (ie. virtual assistants) that allow them to simply speak to place an order for kiwis immediately;

Coming across a scenic spot in a drama that the actor visits. Users can use their handphones to scan or click on the video APP to complete the purchases of scenic spot tickets.

5. Operate own brand on platform or create a new brand
With so many competitors fighting for a slice of the e-commerce pie, ecommerce platforms may find themselves facing issues such as not being able to obtain high-quality resources or resources being exclusively given to others. To maintain active customers and increase SKU, self-operating the business or creating new house brand products (for instance, tissues, cosmetic products, liquid soap or pasta sauces which are produced in-house just to name a few) with the help of suppliers may be a better option.

With excellent traffic support from the channel used, and grasping the correct operation techniques, coupled with a competitive product, it is entirely possible to replace brands that are already on the market!

6. Increasing Long-Tail Customers
Consider developing consumer markets that have not yet been developed once the ecommerce platform had successfully captured the attention of mainstream customers. Some options include exploring new markets (in developed countries), sinking markets (underdeveloped areas/urban/rural areas), non-mainstream customers (such as the elderly), and specialized vertical markets (such as sneakers and artwork, etc.)

In conclusion, our team and I at NPN are of the idea that e-commerce merchants should not exist as an independent channel, engage in independent closed loops or be monopolized. Instead, they should actively embrace the entire retail ecosystem, connect with social media, offline channels and various industries. e-commerce platforms should also help merchants manage customers well, and integrate e-commerce into daily lives so as to propel the entire e-commerce outlook in a positive direction.

Like this article? Read more about NPN's e-commerce management solution.
Our Reader's Appreciation
Thank you for reading this blog! As an appreciation for our readers, you can collect a $2 GrabFood voucher here: https://www.retailtechnpn.com/sg/bp11 Please help to like, share, and leave any comments you have below. Stay tune for more of our blog content. Thank you!