Grab and NPN Partners to Optimise Sales Through Digitalisation
NPN, a retail technology solution company, and Grab, a leading everyday superapp has establish a partnership aimed at digitalising Grab merchant sales operation in Singapore.
As an official local distributor of all Sunmi android devices, NPN's Sunmi Smart POS solution perfectly aligns with the partnership direction. Besides being the hardware provider for Grab merchants, this solution for Grab also includes a professional support team that carefully handles and provide merchant support from deployment of devices to training guidance for all onboarded grab merchants.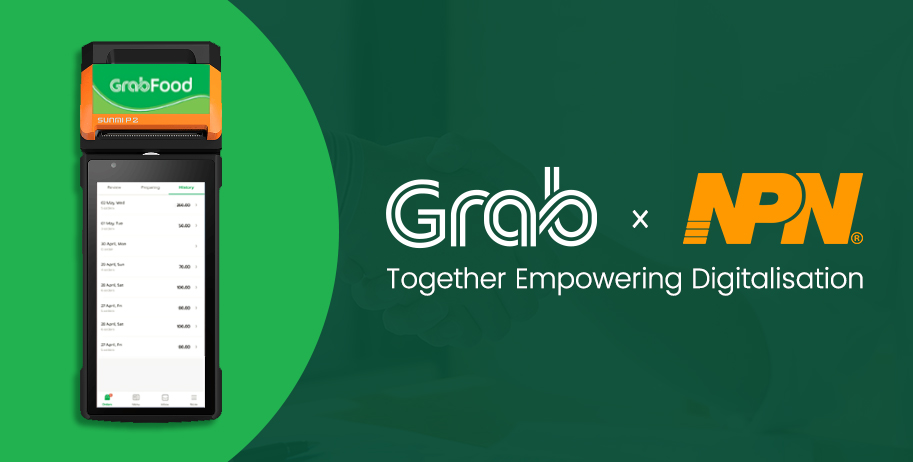 About Grab
Grab is the leading superapp platform in Southeast Asia, providing everyday services that matter to consumers. Today, the Grab app has been downloaded onto millions of mobile devices, giving users access to over 9 million drivers, merchants, and agents. Grab offers a wide range of on-demand services in the region, including mobility, food, package and grocery delivery services, mobile payments, and financial services across 428 cities in eight countries.
Under this partnership, it unlocks:
1. Ease of order handling for Grab merchants
NPN provides Grab merchants with a high technology functioning device that meets the merchants' needs in order receiving and management. The SUNMI android device is known to help business owners to accelerate their digital transformation in store operations.
2.

Providing Grab merchant support
Emphasising with non-tech savvy restaurant owners and merchants, NPN understands that the SUNMI android devices may not always be as straight forward as it is to merchants. To solve this, NPN has supported Grab with our professional support team to assist with all services required dealing with the use of the android devices.
NPN – CEO, Li PengFei stated "We are pleased to a part of Grab's digitalisation initiative by bringing Grab merchants a step closer to better digitalisation in their offline store operations. We will continue our efforts to build a sustainable digital economy for all in Southeast Asia."
More About NPN SUNMI Smart POS Solution
Besides the extensive range of in-stock SUNMI hardware that NPN offers to our customer and consumers, we also provide you with additional software integrated into the android allowing retail businesses to build a more effective business operations. Crucially, NPN also take steps to handle all the shipping and logistics requirements for you as one of Sunmi's key POS distributors across Singapore. Professional support such as onsite and online servicing is also provided when you partner with NPN as we offer a free 1-year on-site support that includes any ground servicing needed at your retail shops and 1-to-1 exchange service alongside the deployment or maintenance of all Sunmi devices. Online and offline customer assistance is also available should customers require them.
NPN Drive Digital Transformation in Retail
Our SUNMI Smart POS solution have helped numerous local retailers to solve their retail pain points. This is one way into digital transformation for offline businesses. With the demand for retail offering going increasingly online, digital transformation has become increasingly important for companies wishing to tap into this online ecosystem to stay efficient and cost effective. The right approach to implement digital transformation solutions will be crucial. Thankfully at NPN, we capitalize on technology to provide companies with personalised retail solutions to eliminate retail pain points faced when operating their business. To learn more on how NPN can help your business transform digitally, contact us today and start redefining your retail business.
Our Reader's Appreciation
Thank you for reading this blog! As an appreciation for our readers, you can collect a $2 GrabFood voucher here: https://www.retailtechnpn.com/sg/bp12 Please help to like, share, and leave any comments you have below. Stay tune for more of our blog content. Thank you!