Is Social Commerce The Next Big Thing?
What is social commerce?
Social commerce means selling your products on social media platforms like Facebook, Instagram, TikTok, Pinterest and others. The entire process takes place on the social media platform itself, from searching for a product, to viewing, deciding, and purchasing it directly on the social media platform. Adding to cart and paying for your products happens directly on the social media platforms.
The difference between social commerce and e-commerce?
E-commerce selling is generally done through a website or online marketplaces such as Lazada, Shopee, Qoo10, Amazon and many others. E-commerce allows customers to shop on the website or marketplace platforms, while social commerce allows customers to shop directly on the social media app or platform without having to switch to another website to do so.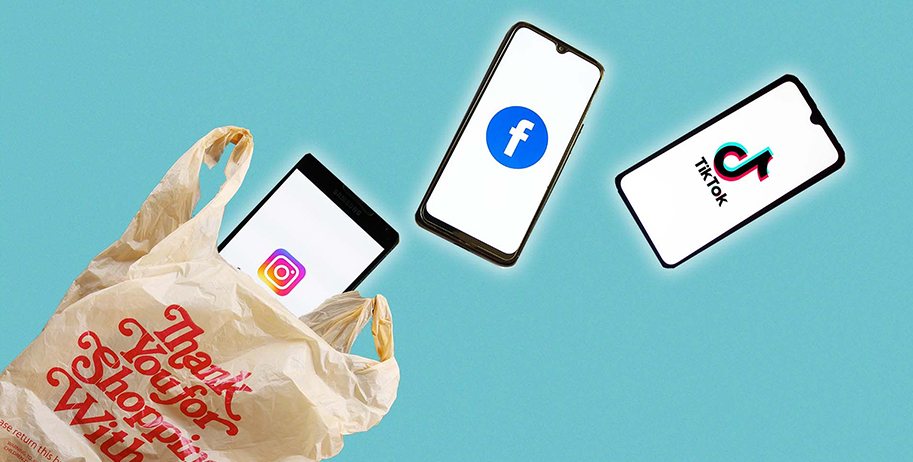 Social media marketing and social commerce
Brands use social media marketing to drive visitors to a website or other shopping platform to complete a purchase. By showcasing the brand's products through the placement of ads, the brand receives impressions and clicks that generate interest from the target audience to purchase the product. In this journey, the customer may be interrupted, losing interest or a potential purchase.
With social commerce, the customer can now make a purchase directly on the social media platform after seeing the advertisement. The entire journey takes place within the social media platform without the customer having to leave the social media site. Fewer clicks required, less interruptions, and even
convenience features on the social media platforms such as auto-filling of payment and customer details that helps smooth the whole purchase journey.
So, social commerce offers brands the advantage of being able to combine the two.
Why should brands use social commerce?
1. Larger audience on social media
Your audience are on social media the most and businesses need to take advantage of this. Different social media platforms have different audience demographics. However, we know that the common groups are Millennials, Gen Xs and Zs, who represent a large potential customer base.
2. Increase awareness through social content
Content becomes highly rated on social media, it also becomes more interactive. From creative videos to images to live content showcasing products to capture the interest of potential buyers. Compared to e-commerce product presentations, there is more interaction with your audience on social media. In addition, influencer marketing has taken on new importance in recent years. Brands can hire influencers to draw attention to their product or brand, and customers can get authenticity and social proof from influencers similar to themselves.
3. Use social media reviews
In addition to likes and comments, people also share their experiences and recommendations about products they have purchased on social media. Such reviews about the product attract a lot of attention and increase the credibility of potential buyers in making a purchase decision. The audience will also search for reviews on social media before making a direct purchase on the social media platform.
4. Authentic engagement and traffic
Businesses on social media can share content with their audience. By regularly creating content and updates for their followers, they actively participate in brand building. This way, customers can not only engage with your business, but they also have the opportunity to regularly engage with the brand and start a word-of-mouth referral. This increases engagement and traffic.
What are the social commerce barriers?
Having too many operating systems
I believe that all businesses have their own solution systems to help operate businesses from various channels. With an addition of social commerce channel, it poses a problem of having too many standalone systems that needs to be handled. Hence, it is best for businesses to integrate all systems and work with one holistic system that allows easier operations.
Analyzing new data from social commerce
A new channel streams in new data. Collected new data needs to be cleaned and analysed to gain insights for next actions to improve the social commerce performance. Firstly, your business must be able to have the capacity to store these data. Secondly, collected and stored data are of no use if you do not analyse further. Lastly, how can you connect the data you have collected from social commerce and other e-commerce to improve your e-commerce business as a whole.
Part of NPN's core mission as a retail technology solutions provider is to help companies digitalise their business using technology to improve the retail business. The potential obstacles that companies face with the emerging social commerce trend can and should be removed by digitalisation.
Get ready for the new wave of social commerce and be digitally ready. Learn more about how you can overcome this hurdle with our digital transformation solution.  
Thank you for reading this blog! As an appreciation for our readers, you can collect a $2 GrabFood voucher here: https://www.retailtechnpn.com/sg/bp4
Please help to like, share and leave any comments you have below. Stay tune for more of our blog content. Thank you!